Arromanches 360º urges us to actively remember the atrocities of war. The 360º cinema experience plunges visitors straight into the hell in water that were the D-Day landings.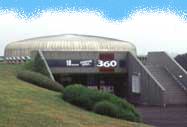 The film, the Price of Freedom, uses previously unreleased footage spliced together with present-day shots of the peaceful landscape in an attempt to create the intensity of June 1944.

The ambient lighting and the cacophonous music blasting out of the nine speakers attempts to plunge you head-first into the action. Through images shot from the differing machines of war, visitors are able to float along with the pontoons at Arromanches, fly over Pointe du Hoc and then finally come ashore at Omaha Beach.

Saving Private Ryan and numerous computer games may have pulled you closer to D-Day, but Arromanches 360º drags you in.
Where it is