Over the years we have been running our gite we've had such positive comments from guests that we have decided to draw a bit more attention to the benefits that having owners on site can bring.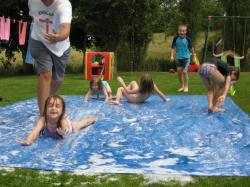 Everybody wants a clean and comfortable place to stay which represents good value for money. We know we provide that and for some guests that's all they need from us. For others we've discovered we can help in all kinds of ways. We listen to what you want and respond accordingly. For us, that's part of the service.
The next step is to offer supported holidays where you make your booking knowing that we are available if you need us. With our backgrounds and experience here we are ideally placed to help people get the most from their break in this very special part of France.
FOR CHILDREN WITH SPECIAL NEEDS AND THEIR FAMILIES. Before we swapped life in London for life in rural France I was a Hospital Play Specialist. I realise the importance of a holiday for the whole family where there are special needs, illness, recovery from illness, times in life when people just need an extra hand. We offer activities and outings for children and their families. We can support parents, siblings and the children themselves to ensure that everyone gets what they need from their holiday. We can plan things in advance or just go with the flow.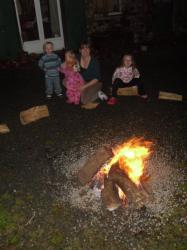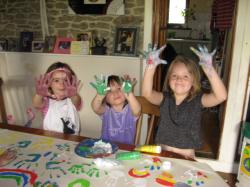 Visiting children are welcome to join with our own in whatever activity we are doing or we can run sessions exclusively for you. Activities might include messy play, musical fun, sports, outdoor games, painting, cooking, small worlds, computer games or story making. The list is only limited by our imagination! Evening activities could include BBQ's, campfires or movie nights.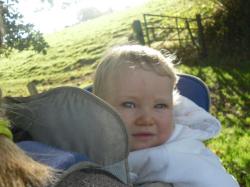 FOR FIRST HOLIDAYS ABROAD OR WITH BABY. This part of France has so much to offer and while some people find it easy to make the most of it, others feel more comfortable knowing we are on hand if needed .We are happy to make reservations for you, drive for you, whatever you find stressful we can see if we can take that stress away. Travelling with a baby for the first time can be nerve wracking but when you come here you'll know we are on hand with plenty of equipment, recommendations of baby friendly places to go and time if you want it..
FOR GROUPS. The floor space in the cottage is huge and we are happy to rearrange the beds to best suit your group. The games room area creates another living room so people have plenty of space. We can help to arrange BATTLEFIELD TOURS, LANGUAGE COURSES and RETREATS.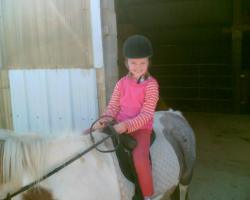 As for the costs, attention to detail and activities with our own children come as standard when you book Kestrel Cottage. We will need to make charges for some extra activities and organisation. For families, an organised 2 hour on site activity session would cost 30 euros, an activity session with our own children (with you on site) would be just the cost of materials if anything. Group activity requirements will need to be discussed! We can accompany outings as an additional adult at additional cost. Administration and transport costs will depend on the requirements of each family or group. If you think your family or group would like to take advantage of a supported holiday please do get in touch to talk about what we can do to help you.