We have a young family ourselves and want to make holidaying with children as fun and hassle free as possible at no extra cost. We have a range of good quality equipment and toys to lend which will make packing lighter for you. We can arrange pre-arrival shopping, so with the beds and toys ready and waiting, all you need to do is arrive and relax.
During your holiday we can run activity sessions on site to give parents a rest or fill an odd wet afternoon and we can baby-sit for an evening. Both owners are experienced with children and between us we are qualified in first aid, therapeutic play and residential activities.
Equipment we provide for babies and small children.

* Baby spoons and plastic bowls
* Plastic spoons, plates and cups for children
* Childrens' cutlery
* Food Mixer for purees
* High chair
* Booster seat
* Mop-up cloths
* Microwave sterilizer and 1 baby bottle
* Cot and Travel Cot
* Cot bedding and sleeping bag
* Robust buggy suitable for use on the tracks.
* Colouring pens and paper.
* Baby Bjorn baby carrier
* Back pack style baby carrier
* Baby towels
* Toys and DVD's
* Baby bath, bath mat and bath toys
* Potty
* A picnic blanket
* Small paddling pool for the summer


Swings


Highchairs

We enjoy running activity sessions for our children and guests. Parents will need to be on site and are welcome to join in with the fun or take a break if your little ones are confident to be with us. Activities can include craft sessions, messy play, small worlds, physical games, assault courses, parachute games and musical fun sessions. Your children joining in with our own is free of charge! We are happy to organise activities exclusively for you, please see more details on our 'support on site' page. All activities can be arranged in advance or we can just go with the flow.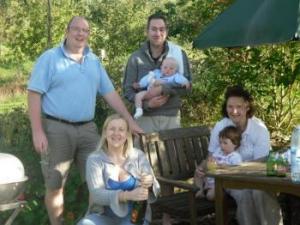 Enjoying the garden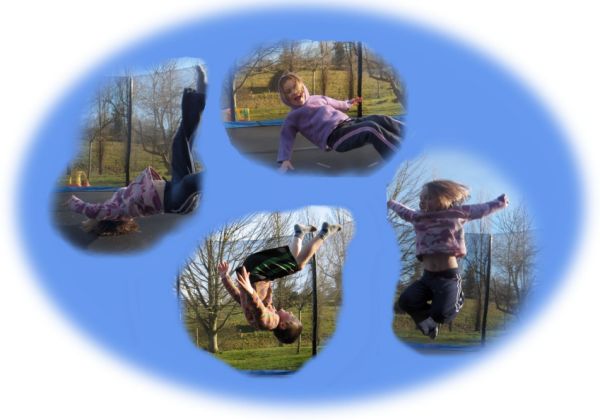 Fun on the trampoline